NEWSLETTER AUGUST 2016

Hello, friends!

Once again I have now returned to Australia where it is winter (+21 C) from the summer of Europe (+21 C), so whether it is summer or winter, it is easy to get confused.
 The journey through Finland and France was blessed. Every summer is different, however on this particular summer there was something unique. All the churches had a unique atmosphere. People were weeping, Many did not even know why. One place that stayed in my mind was the service at the Lutheran church of Pielisensuu. There was such an atmosphere of peace, that I have rarely felt anywhere. The prayer worship service of Pekka and Arja Simojoki is always superb, many thanks to them. I cannot list all the church services I attended during the summer as there are just too many for it to fit in this newsletter, but every church had the presence of the Holy Spirit. Perhaps that is why God healed so many people of their various ailments in a remarkable way.

Dear brothers and sisters: Do testify to the healings! As it gives hope to others and reminds us, that God is ALIVE and is working His miracles even today.

Is there a spiritual awakening in Finland? Honestly speaking, no there isn't. Full church auditoriums do not prove there is a revival, as Christians will travel a long way to a distant church to see a visiting pastor and then they disappear again once the church service is over. A spiritual hunger has grown amongst the Christians, However I am of the opinion that a revival will only occur once bus loads of non Christians turn up to church and the whole of Finland starts talking about it including the secular media. At this moment Christians are just wandering from one church to another and celebrating together. We cannot hope for a change in those people that do not know Christ,  if even Christians cannot see the need to change their lives and to live not in sin. A revival will come when hearts change and Corinthians 13 comes true in Christians lives. It is the release that will trigger Finland to awaken from their religious spirit and allow God's glory to shine throughout the country.

| | |
| --- | --- |
| | |
| Cabacunga Hosea church inside building | The church is still not ready but it doesn't matter |
Philippines Mission
The new school year has began in June. We also have a student who has leukemia. That student was not accepted into any other school. This boy wants to learn, even though he is not able to always attend due to the treatment leukemia requires. Hosea has earlier given an opportunity to many children that have been rejected by regular schools for some reason or another, and we have only had good experiences of such students. Christ does not reject anybody. This little boy's mum is now very happy. This child has had cancer since being only 3 years old. The parents also want to be able to meet with me, when I get the time to go to the Philippines once again.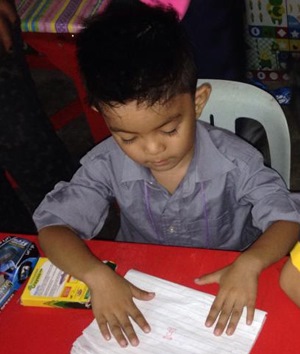 A new school year has began at Hosea
The teacher of our school, Daisy, shared some happy news: She is pregnant. This pregnancy is a miracle from God, There has been much prayer for many years because a child would mean much to Daisy. Now this has happened, which was impossible for humans. God turned the impossible to possible.

Our Cabacugan Hosea church has celebrated its church building dedication day. Since last visiting the place it was having the church meetings under a tarpaulin roof supported by a bamboo rod, but that hasn't effected the growth of the church. The church members brought along plastic chairs, And it did not seem to matter much that a path often used by nearby villages was on that spot where the tarpaulin roof was tied down. The church has done much good in the area with the local Mangyan tribes by helping them out in various ways.

Recently all the Hosea churches got together and conducted a camp, Where for the first time a few members of the Mangyan tribe participated. This type of activity to them is new. I am very happy about this, Since the togetherness in Christ connects people together in many ways so that they belong to the same family of Christ without paying attention to the origin of the people. Because normally the Philippine people do not have much connection to the people in the tribes.

Cabacungan church as well as the other Hosea churches work has grown very rapidly, This has required us to train new people to help out. The Pastors have started a program that teachers people to function as disciples. Every church will have five of these helpers, who will lead the evangelical work in the Hosea church area. The tribe churches are also participating in this.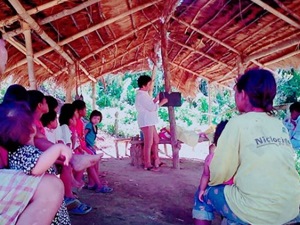 A class being held for the Mangya people
Cabacungan tribal church has also started a program to help the members learn to read and count for those adults that need it. Additionally we also give them information about basic hygiene and nutrition, as this information is not commonly known. The same also applies to biblical teaching. There is much work as many issues do not solve themselves and there can be difficulties. But the Hosea groups find this sort of work interesting and it brings many new members to church. People want to join the church, which actively works and accomplishes much in the surrounding area. One church member told me: "I enjoy making food at the evangelism events!" She feels that she can exercise her God given gift of serving others.

| | |
| --- | --- |
| | |
| Motel being built in Mamburao | The second floor of Hosea motel |
The Hosea Motel is still under construction and is rising at a fast pace. The second story is under way, and construction is progressing as funds come in. The work was halted at one point due to a typhoon but is now continuing as the normal monsoon season is over. We began our work in faith with the money we dared to risk into this project… So we just had to jump right in to the stormy water like Peter did. Nothing would have been accomplished if we had just idly waited. Work is only realized once you get involved in it. Building permits take their own time to get sorted in the country where things can be difficult to get done via official channels… We could not find a suitable building engineer at first, that was willing to work with our timetable.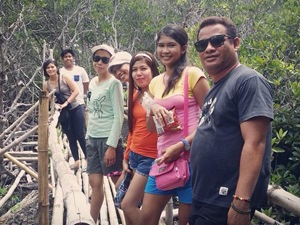 Mamburao Hosea school teachers on an excursion
In December a group of young people is leaving for the Philippines from Finland. I am so glad this is happening! A young person from the Philippines once asked me innocently: "Does Finland only have old people?" Because both Australia and Finland have sent so many a bit elderly missionaries to visit.
And also please remember the Tongan school in your prayers. Things there are progressing well thanks to Dorothy our head teacher who puts in a lot of effort to get the job done. The Tonga people are as precious to me as the people from the Philippines even though I talked about what is going on in the Philippines so much more this time.