NEWSLETTER APRIL 2020

Greetings to all our newsletter readers!

The coronavirus pandemic that has been going around the world has touched Australia and the Philippines in many ways. Manila has already been in isolation for two months. The quarantine rules are strict but understandably so since the Metro Manila area is a difficult place to control, especially with its many slum areas. People live side by side in tiny dwellings and on the streets. The Philippines has a population of 109 million and if the virus started to spread in the slums and garbage dump areas, it would be almost impossible to stop.
The island of Mindoro has been closed to traffic from outside and there are restrictions on internal travel. Shops are closed too. People can only purchase food from the markets, one household representative at a time, and that person needs a government-issued pass to do so.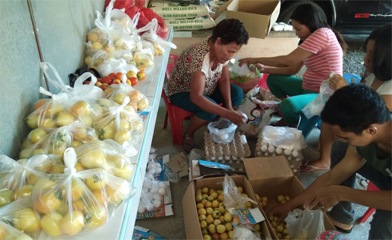 Hosea members are packaging food in the church

Mamburao city has allocated to the poor a certain amount of rice but it is not enough for large families. Initially fishing boats were not allowed to go out to sea, but now smaller boats are allowed to go fishing. Fishing is the main source of income for slum villagers. So when there is no fishing, there is no income, no food and people go hungry. If there would be fish available in the markets, the poor could not afford it, even though the price has fallen. President Duterte has tried his best to arrange distribution of food, but it is almost impossible to provide food to such a large number of people.

The schools are also closed. Possibly because of the quarantine, Mindoro island has had only one known case of coronavirus -  a Catholic priest - but thankfully he has recovered. When it comes to the number of coronavirus cases, nobody has precise information.

Filipinos have a rather interesting attitude towards crises, The past year on the island has been full of tragedies one after another. Now the islanders are saying: "We survived the typhoons, floods, mudslides, earthquake and the ash cloud from the volcanic eruption on the adjoining island. So we will get through the coronavirus epidemic as well."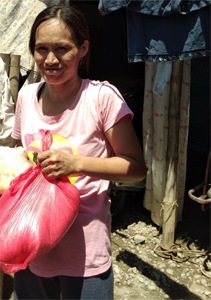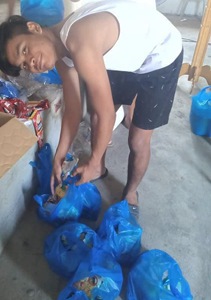 Aroma villager has been given food     Mangyan tribe is also given food

Our main church has received donations of rice from people in better financial situations. Church members have collected funds amongst themselves and bought tins of sardines, and there have also been donations of tomatoes and fruit. These have been packaged up and delivered to the poor. Our church people often suffer poverty, especially in the Aroma slum, where food packages have also been distributed, Further distribution has gone to the Mangyan tribes, who have little to eat because the last typhoon destroyed a large part of their crops. Hosea church teachers have been able to travel to the mountains where the Mangyan tribes people live, because travel is permitted for charity mission activities on the island. Sardines are a special delicacy for the Mangyans as well as being very nutritious. As I have explained earlier, they use the oil from the sardine tins on their hair. The whole tribe is very fragrant after that … but their hair has a magnificent shine!

People still come to our schools to ask for prayer. They have got used to being prayed for by our church members and that God heals the sick. Filipinos have a humble attitude towards God, and even in large hospitals in Manila doctors and nurses come together to pray.

We have had to cancel our medical mission and move it to a later time, because the doctors and dentists got stuck in Manila. Neither ferries nor flights are operating and large gatherings of people are banned. Our medical missions normally gather around 500 people needing care. At least this continuing crisis in the Philippines has caused people to seek the Lord for salvation and for forgiveness of their sins.
The children are also given food

Unfortunately my own trip to Finland has had to be cancelled this year because of the coronavirus pandemic. This is disappointing because my new book was almost ready to be printed, and its sale would have helped gather funds for our mission work. Now the publishing of the book has been postponed to a later time. But there is nothing that we can do because flights are not operating and I have to sit in self isolation, just like all other Australians.
Coronavirus has also had some unexpected positive effects on society. Many people throughout the world have started to pray that the epidemic would bring repentance. Even Australia has risen up to pray for the country and for other nations. Even the massive bushfires that raged here have caused a change in people's hearts. It is rare to see how Christians around the world have come together to raise their eyes to the Cross and to the salvation that Jesus Christ won. But even when people are in fear and things feel hopeless in the world we must remember, that God is not worried! So those that follow and obey Him don't need to be worried either. But I trust in you, Lord; I say, "You are my God. My times are in your hands; deliver me from the hands of my enemies,from those who pursue me. Let your face shine on your servant; save me in your unfailing love." Psalms 31:14-16)


Blessings
Anne