NEWSLETTER APRIL 2023

Dear praying friends

Hosea has again reached out with the gospel to new areas in the Philippines. I had the great joy of being able to travel to Mamburao after the pandemic and Nathan was there at the same time as me.
This time we went to some of the most dangerous terrorist-infested areas, known as "red zones". Military snipers were on the mountains around the valley that we were in, elite troops were encircling the Hosea team and we had an armoured military escort with a helicopter overhead looking for terrorists. Nathan commented that incredibly it felt like just an ordinary day on the mission field there!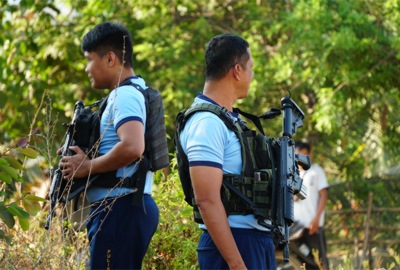 The Police are protecting us
Almost 500 people got to hear the gospel and received food aid in a single day, and for many it was the first time they had seen a white man. Nathan was accompanied by a young fellow Norwegian named Ole Eirik who came to Hosea to learn about mission work. I was concerned about  how this young man would manage as he had no previous experience of such dangerous places. But my worries were groundless because he courageously joined us in all our outreach activities. Thankfully he joined the team just after we had an interesting episode when the team were in the middle of a terrorist versus military confrontation in another NPA-dominated locality! None of us could have guessed that the NPA would plan an attack over Easter which is an important time of celebration in the Philippines. Psalm 34:7 was a key promise for us "The angel of the Lord encamps around those who fear him, and delivers them."

Hosea has now established three more churches for the tribespeople and altogether there are five tribes' congregations. Our mission work amongst them has been really fruitful.

We have been delighted over progress with our hotel. Its original purpose was to be a training place for young people to learn about the hospitality business. A local college asked us whether their student chefs might do their training at our hotel because we constantly host conferences and seminars there which of course require catering to be provided. What divine provision! We got a free workforce and the students got relevant work experience to develop their catering skills.

Dental Mission

Medical missions have been completed in several localities. We provided services from doctors, dentists and dental technicians at no cost. More than 800 patients received treatments including even free dentures. From the mainland came two doctors and two dental technicians, together with their assistants and equipment, and altogether we had three dentists on the team. Military protection was provided for the mission too.

The plan was to give treatment only to those who had notified us of their conditions beforehand. But the word spread to many localities and we were inundated with patients until late in the evening in one location. Even more people came the next day even though we had moved to a different area. Daisy Santos from our Hosea school led the pharmacy provision for the team. We also had a counselling and prayer service arranged by Pastor Billy Balsamo. We gave gospel teaching prior to the medical treatments and also prayer ministry from Pastor Billy, resulting in several healings!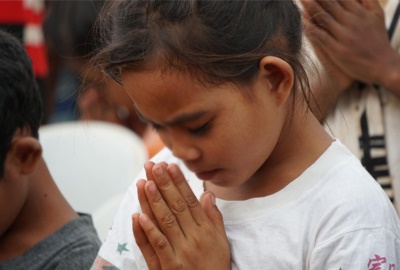 Gospel for the children

We were really surprised by the number of people seeking help from our medical mission but this is probably a result of the coronavirus epidemic in which many people lost their jobs and were so poor that they had to choose between either buying food or paying for medical help -- of course they chose the former. Dental treatments are particularly expensive and out of the reach of most local people. Even many middle-class people lost their jobs and income during the epidemic.

I am sending my heartfelt thanks once again to all of you who financially support the work of Hosea: it is you who made this all possible! And big thanks too to our intercessors who have carried us through many dangerous situations - you are so important to us! Through your support we are able to spread the gospel to areas where many are afraid to go, with very fruitful results.


Anne