NEWSLETTER DECEMBER 2017

Christmas Greetings to you, dear friends!

Or should I say that I am sending my tropically damp greetings?! The first typhoon, named Ramil, made a flying visit to Mindoro Island at the beginning of November, causing sudden flooding, and straight after that Typhoon Salome tried to force herself into the same area as an unwanted guest, close to where I was travelling with my team. Salome made the air so damp that our clothes were stuck to our skin and our spectacles were steamed up. However before Typhoon Salome hit the island of Mindoro with all its force, it made a sudden turn away and just threw torrential rain upon us one night, with rushing mighty winds rattling the windows.
In addition to these two typhoons, so that life would not become too easy, a double typhoon called Urduja headed straight towards the centre of Mindoro. I thought that our enemy was too badly irritated by the ministry of Hosea, as we have received absolutely unbelievable victories recently. The field that has been ploughed and sown for years and years, has now ripened to produce a beautiful harvest.

Students listening to the sermon
But thanks to the prayers offered by so many people, Typhoon Urduja has changed its route so much that we might only get a little touch from its edges, causing tropical low pressure which of course will bring rains, floods and mud slides -- but prayer can change even that.
Our Norwegian youth evangelist Nathan has worked hard with the youth team in the ministry of Hosea, with lots of wonderful results. Even prisons have opened their doors for him to come and preach the Gospel, and the same has happened with state schools in the area. It is absolutely amazing to hear how 1500 secondary and high school students shouted with one voice: "Jesus, Jesus, Jesus is the Lord." And then they all bowed their heads in prayer. After this three other schools contacted us and told that they wanted the same! About 800 students came to faith in those schools as they bowed their heads to pray and accept Jesus as their Lord. Of course, primary schools too have opened up for the Gospel and the atmosphere has been equally receptive there.
Now surely someone will ask how appropriate follow-up has been arranged. Yes indeed, that has been taken care of. Hosea churches do not have capacity for thousands of new people but there are plenty of other churches to which the new converts can be guided. I have always rejoiced over the fact that our main Pastor Sonio has such good relationships with all other churches. There is power in cooperation! We all belong to the same army of Christ.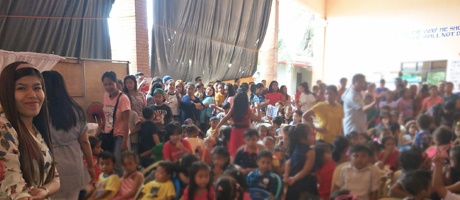 Christmas event about Jesus
The radio station was also alerted and started wondering what was happening on the island. So Nathan got an opportunity to preach on the radio as well. Young people have found it so easy to identify with this young man of their own age, who is burning for God and speaks powerfully, using the language of their hearts. I must say that this is something that gets me really excited! Well, I guess I am not that old after all, and there are still those cute, wonderful little pupils who hang around me like little chicks. To them I am still the beloved granny. And of cause, in Asia people do honour older people and value their words, so I am indeed of the right age and in the right place.
As I mentioned in my previous newsletter, the seminar we held in Mamburao, was blessed by a real outpouring of the Spirit of God. It laid a good foundation for coming events and afterwards I have received several wonderful testimonies of physical healings. Thank you also to the Finnish and French team for your great efforts during your visit. Your work has not been in vain but has brought lovely fruit. People in Mindoro warmly remember you.
I also heard of a testimony from a mother of one of our school children. She had breast cancer and was booked into hospital for an operation next day. She was really worried about the costs of the operation and of course about what the results would be. Cancer operations do not always end very well in that area of the world. The mother came for prayer and cried like a flood as her children were still so small. I felt I could not find words to comfort her in her agony, so I just said a short prayer that the Lord would do what He knows is best for her. Now this lady has told our teachers that when she went to the hospital for the operation and the Doctor took just one more X-ray to verify the situation, the whole tumour had vanished! She was declared to be totally healthy. God made the miracle! This is now the second similar healing there: the other lady had a tumour which was so big that it could be seen. I prayed a short little prayer – and the tumour disappeared.  We have an amazing God, don't we!
I really cannot find words to explain what is happening in our ministry field. When the Lord brings the harvest of converts, they come from slums and prisons, from all ages and all strata of society, even up to the high state officials. There is blessing upon Mindoro Island right now, and every one of you is included in this blessing. Thank you to all of you who have supported this ministry with your prayers and donations.
With my heartfelt thanks,

Anne