NEWSLETTER JANUARY 2019

New Year Blessings for 2019 to All Our Readers!

Our Hosea churches celebrated the new year as usual with the different congregations holding church family celebrations, gathering to hear God's Word and to eat together. Pastor Billy from Sablayan Church invited parents of pupils from our school there to meet together and listen to Bible teaching, and the school hall was full to capacity with parents and other relatives.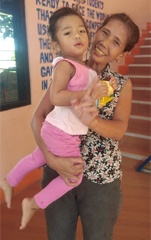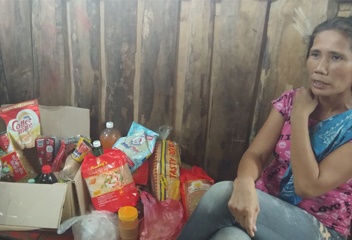 This girl got healed             We gave food to this child's poor family

A group of our young people accompanied Pastor Billy in visiting the huts of local people to pray for them. There are many people who are sick. The poor have no chance of getting medical help as they cannot pay, but of course there is a Heavenly Healer who does not charge and who can heal every ailment. After people have been healed through prayer it is easy to introduce them to the good news of Jesus and hence we often see whole families turning to Him. When we pray for healing it always attracts interest from people's neighbours who leave their huts to see what is going on. Pastor Billy frequently goes round neighbouring villages from hut to hut, together with volunteers from amongst his church members whom he has taught to pray for the sick. The results have been outstanding with many sicknesses being healed.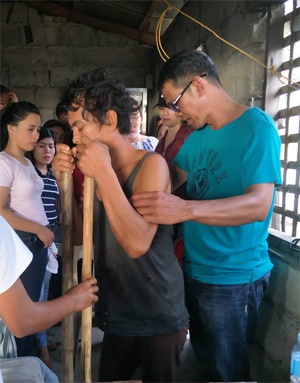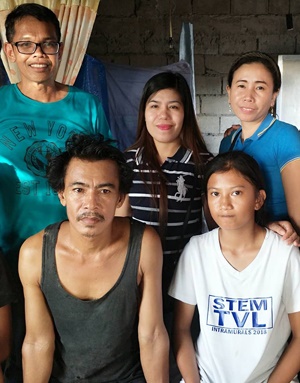 People testify healing                                     The Hosea team with a healed man from paralysis

Of the many healing miracles that we have seen, one of the most memorable was when one of our school graduates was healed of paralysis. The girl was seven years old when she came to the Hosea School in Montalban, having left a state school where she had been badly bullied. The family lived in a village far from the school and every day her mother carried her to school. The girl had a beautiful singing voice and so she was always given solo parts in the school performances, where we would lift her up to sit on a high stool to be on the same level as the other children. I and several others prayed earnestly for her healing but nothing happened. After the school year ended she returned to her home village. Two years passed and I heard nothing of her until late last year I got the amazing news that one day she had simply got up and started walking, much to the astonishment of all the villagers there.
The Hosea team that visited her village told me that the girl's legs were still somewhat crooked as there is no possibility for physiotherapy but she is still walking well. All the glory went to Jesus! Her case is similar to that of Nico whom God healed in 2006. For him I was able to arrange for a member of the church to massage his legs after he was healed because the leg muscles were atrophied through lack of use for so many years. Today Nico is in his teens and he loves to play basketball.

At the end of last year there was also a miracle for a sick father of seven children. He had been immobile, just lying on his bed for two months. His wife had rejected him and left him with all the children to somehow care for - but of course they had to do the caring and somehow find food when they could, which was not often. Today this man is walking again, his muscles are strong and his family has joined our church, where there are many others who have come to faith through receiving God's healing power.  We have a reputation as being a church where God heals and so we get many sick people coming along for prayer.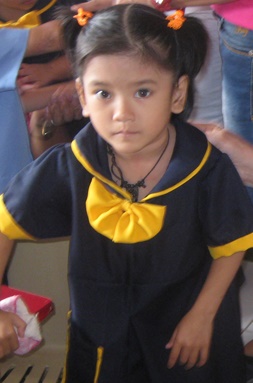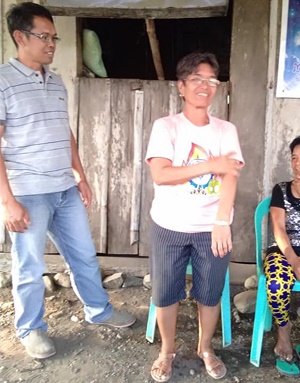 The healed Hosea pupil                                 Pastor Billy and the healed woman

At the beginning of December a single mother sought prayer for her daughter who had contracted black measles, a serious disease that is often fatal for children. It is also known as Rocky Mountain spotted fever and is a tick-borne disease. The doctors held out no hope for her recovery but our Mamburao congregation started praying for a miracle. God heard their prayers and the girl was instantly healed! The lady lives in the slums and has many children - the family is very poor. Our church members collected foodstuffs and vitamins for them and the mother wept at their generosity saying that it was the first time they had food for Christmas celebrations.
Papua New Guinea
There are Hosea churches in Papua New Guinea and schools catering also for primary age pupils. We are sending our young Norwegian evangelist Nathan there for a month in June of this year. There are many young people there who desperately need the good news of Jesus Christ. Even though I still feel myself to be youthful, I think it is better to send someone who is still in their twenties and really looks young (unlike me!) for this ministry to the Papuan youngsters.                              

Prison Outreach

There has been significant fruit from Nathan's work amongst prisoners on Mindoro Island. There were two brothers who were released from a prison colony where they had come to faith in the last year. They were at the top of the hierarchy that existed in that prison colony and so their salvation had a huge impact on the place.  Their repentance was life-changing and they started preaching Christ with fiery enthusiasm to their fellow prisoners, many of whom were struck by their radical conversion and faith. I was really surprised when I heard about their release from prison. They are now keen members of our church in Mamburao where they are eagerly evangelising the surrounding villages. What an answer to prayer for their sister who is one of our Hosea school-teachers  - she had been praying for their salvation for a long time. So don't give up on your prayers, even though you may not see the results immediately. The answer may be delayed but it will come in God's timing.

These stories are just a fraction of what the Lord is doing on Mindoro Island. I am convinced that the Lord will do similar mighty acts in our homelands too, and I am excitedly awaiting for my June/July tour in Finland. Lets all pray for significant changes in 2019 within our own countries, asking the Lord to shake off the dusty layers of unbelief and religiosity and to revive and restore our destinies.

Thank you to all who have supported our ministry through faithful prayer and giving - your support is absolutely invaluable.

Blessings