Newsletter 26.2.2015
Hello my dear friends,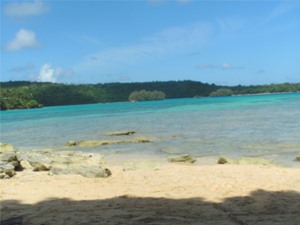 The children have cleaned the beach.
I would like to take a bit of time to tell you about the new challenges we are facing with our school in Vava'u Island in Tonga. We have received very alarming news from our head teacher Dorothy: we are under the threat of having to close down because we are about to lose our rented premises at the end of this year. I have often written about this school in my previous newsletters, but just to refresh our memory, here is what has happened there during the last few years.

The starting point was in the year 2007 when we miraculously received permission to establish a Christian preschool in Neiafu, the capital town on Vavaʻ´u Island. Since then we have had to keep fighting for our existence, which has felt rather like pushing against several brick walls. Tonga's education system had collapsed years ago and the Mormons had recognised this as a great opportunity for them. They built several beautiful and well-equipped schools on many of the islands in Tonga, with classes from primary school up to the end of high school. But they totally forgot pre-school, which gave us opportunity to apply for a Christian pre-school. Since then we have been quite a pain in the neck for the Mormons!

Our tiny Christian preschool has been very successful, achieving high standards and academically brilliant results. In fact we have been told that our preschool is academically the best in Vavaʻ´u! We give all the glory and praise to God for that. Over the last few years we have also had a first and second class of primary school in our premises, with the number of students varying between 90 and 100 each year.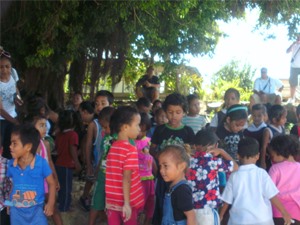 Hosea children on a school trip.
Our school has faced a lot of opposition and disappointments along the way, but we have also seen outstanding miracles. When the last massive typhoon "Ian" was ravaging Tonga in Jan 2014, its centre hit Ha'apai islands next to Vava'u with winds of up 250km/h. The typhoon was category 4 on the scale 1 – 5 and the destruction on Vavaʻ´u was phenomenal.
I watched the TV and read the newspapers at my home in Australia, trying to understand what was going to happen with the typhoon as it headed towards Tonga. What I saw and heard made me feel so scared and distressed. The first satellite pictures didn't give much hope at all as the scenery looked like a war zone. Our school is operating in a rundown building which used to be a bank many years ago. Throughout these years we have been in the same building because there has not been anything else available. It is in such poor condition that I could not believe it could withstand this typhoon's horrendous power. Any of those Tongan guys who are the size of sumo wrestlers could have pushed over the school building just by leaning on it.
Gradually news about the typhoon damage started to come through. About 90 % of the electricity grid on Ha'apai was cut out, which meant that internet connections weren't working either. I had no means to contact Dorothy, so I had to just wait and wait to see if there was any way she could contact me. A week later Dorothy managed to send a text message to me via her Fijian friends. Her message said: "School is still standing. We are surprised." It was totally unbelievable, I stood there stunned, looking at the words displayed on my mobile. There must have been heavenly forces around the building to hold back the winds and keep it standing -- there is no other explanation for it. Wind tore holes in the roof though, and water gushed in like Niagara, but the locals patched it up, as best as they could.

During the past years Tonga has gradually slipped into Mormon control. Each year their schools produce more missionaries who effectively convert islanders to be members of the Mormon church. But they had not thought about the preschools and then they started to hear about our small school having outstanding results. So about two years after we had started our school, we got unexpected visitors: a Mormon delegation came to ask if they could buy our school! Well, the Hosea school is not for sale at any price.
Our school is still the only Christian preschool on Vava'u Island. Because our teaching is of such a high standard and because our reputation has spread through the Island, even Mormon parents have started to come to us, wanting to enrol their kids into our school. We have welcomed them with the same requirements that we give to all other parents: they have to attend our weekly Bible study. This system has worked well.

Now we are facing a new challenge, just as the new school year has started. The Ministry of Education has just informed us that our building is considered unsafe and dangerous for kids. We can only enrol 40 pupils altogether (instead of about 100 which we used to have earlier, including primary 1 and 2) and we will have to build immediately two new toilets for the kids.
These restrictions hit our students terribly, but we have no other options. There are no vacant blocks to build upon or other buildings to rent. The Ministry of Education had also ordered the roof to be repaired but Dorothy has informed me that they had found some old sail cloth to make the roof waterproof.

In addition to these new demands from the Ministry of Education, we received another even bigger challenge. The owner of the building has just informed us that he will reclaim the building back for his own use at the end of this year. That means we are now in danger of having to close our school permanently. We don't know what the owner is planning to do but we need to find another building to rent. It would need to have a big yard for the kidsʻ´ playground. Finding such a building would be relatively easy in the Western countries but in Tonga it is very difficult. Noisy school kids are not considered to be the most desirable neighbours either, so opposition might come if something was found. But there has not been anything available in the whole town. We have kept looking for another place for many years now but have found nothing. We are desperate for a miracle from God here! We don't have finances to buy a building, so a place to rent is our only option. We need prayer more than ever, so all the years of good work that have been invested won't come to nothing. Dear beloved friends, would you join to fight with us in prayer for this so important mission for Godʻ´s Kingdom?

I keep praying for a miracle from God and am not going to give up. I believe that somewhere, somehow God's grace will allow this work to continue. Miracles have happened before and that's what I am praying for now.

The Philippines
In the Philippines our Hosea team has again been busy, distributing food to the Mangyan tribe. It has been nothing very exotic, only rice, noodles and sardines - but for those with empty stomachs it has been a nourishing feast of priceless value. That has been the case especially with the malnourished children who often go for days without food. Jesus himself gave us the command to clothe and feed the poor. 'I tell all of youwith certainty, since you did it for one of the least important of these brothers of mine, you did it for me.' (Matt. 25: 40)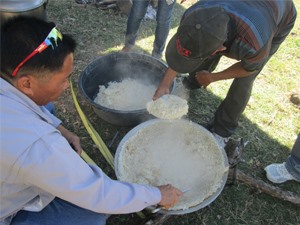 Prepraing food for the Mangyan tribe.
Practical help combined with the preaching of the Gospel is a powerful mix. When there is the power of God's Holy Spirit added to it, then we have a rapidly expanding ministry. In these poor and remote areas where Hosea Mission is operating, you won't find other westerners going around. The absence of other 'albinos' is almost guaranteed! Western people are usually more interested in nicer places or where there is publicity for what you are doing. Sometimes I too have found myself wondering whether continuing such work really makes sense at all. But the results we have seen over many years have proven to us beyond doubt that God is backing us up. The harvest field is enormous and doors are wide open to even the most difficult areas. In fact the work has grown so big and wide that my head is spinning if I think about it. But I am not working on my own: this is teamwork where intercessors and all of you are equally involved.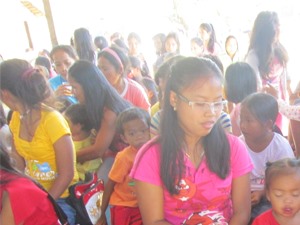 Clothing donations to the Mangyan tribe
Trevor Majoinen from Hosea Ministry in Australia is going to the Philippines on 8th April for three weeks with two brothers Veijo Hukka and Pertti Kamppi who are doing their first tour. Their aim is to visit the areas where our ministry has been working and to visit some new islands to expand the work. I myself will have a little rest before my European tour starts in May. My purpose has been to get my new book printed (only in Finnish, sorry!) before the summer but I am a bit short of time, so I am not sure about it yet. Somehow there are not enough hours in a day. This time my tour in Finland will last just over one month and I will also visit Estonia and France, where I expect to see powerful moves of the Holy Spirit

Yours with abundant blessings,

Anne