July Newsletter 2015
Hi Everyone,
First I would like to say a big thank you to all our supporters and friends and to those who attended our meetings held in Finland, Estonia and France this summer. Although this summer's tour was short, the results were fruitful. Many received healing and what was most important, there were many who came to know Jesus Christ as their Saviour.
My thanks to Margit and Androos for the successful Estonian meetings! I was so blessed that there were meetings held also in the Russian speaking areas. There is a ripe field to be harvested. Also, it was great to visit French believers, to encourage and refresh them, while at the same time being refreshed myself.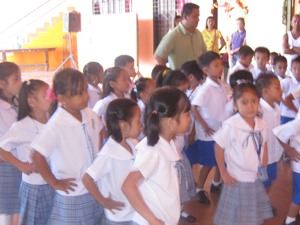 School fitness lessons.

News from the Philippines
New school starts in Manila Rizal
The new school year has started in the Philippines. We have another school that has been started, in the Manila Rizal area, where we have now 31 students. They come from the already well-known Smokey Mountain slum area which means that their home is either in the huge garbage dump or in the slum close to it, and they make their living among the garbage. Those kids are not able to attend pre-school kindergarten, which is required before entering the government-funded public education system.
Before the school started, our teachers went to the slums and explained to the people there the Hosea school system and what it is all about. Whenever we start a new school, it is vital to go to the slums to make it clear to the parents what entering our school means. These people have no money and they are afraid that there would be some hidden expenses that they would have to pay if they sent their children to the school. We need to reassure them of the fact that we will never collect any school fees or any other expenses from them. As a result, the first set of students has dared to come and join our school.
Before the school started in Rizal area, our Pastor together with many of the church members prepared the classroom, painted and decorated it and built school desks and benches. All the work was done with real enthusiasm as this project is so close to their hearts. The first meeting for parents has already been held and matters are moving forward well.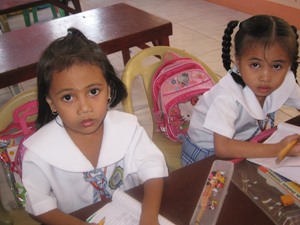 The school year has started

Mamburao school
The principal and vice principal teachers from our main school in Mamburao attended a seminar held by the government in San Jose. That was all about the new bureaucracy demanded from the kindergarden schools. The new rules mean that from now on every student must be registered with a student education number by means of which they can later be eligible to continue in the public education system. In addition to that, our workload has been increased by the detailed reports which the government requires us to submit about our school activities and future plans. This means that we will have plenty of work with these new regulations but we are happy that our Hosea schools have official approval. Not all schools have this privilege for their work. However our students' amazing success in public schools is the clear evidence for our work and as a result we are already trusted and valued highly by the authorities. Our students are our best testimony.

The tribespeople
Our schools amongst the Mangyan tribespeople are doing well and the pupils, both children and adults, are keen on learning new skills. In the Tambangan area our teachers have quite some extra work: due to the long distances, the children are not able to walk to Bulalacao school which means that the teachers have to go where the students are. The small kids cannot walk for hours along the dangerous mountain paths to the school and later back home again. To make it viable, the teacher goes to the villages and then even adults can attend and participate in the schooling.


| | |
| --- | --- |
| | |
| Childrens solution to a leaking roof. | Hosea students in Tonga. |
Tonga
Dear friends, would you join with me in prayer for our work in Tonga, especially for Dorothy our school principal? At the moment she is in a hospital on the main island of Tonga with her 10 years old son who suddenly developed severe chest pain. His heart had started to fail. The parents had no idea of their son's heart problem and they were soon told there was almost nothing that the local doctors could do to help him. Dorothy said that her only hope is in God. She has been crying for days and nights and sent us this desperate plea for prayer. Dorothy has faithfully served in our school and has battled against multiple attacks on all fronts and in all kinds of circumstances. The school in Tonga has survived many such attacks through miraculous help in seemingly impossible situations. We can only pray again for victory through God's gracious intervention in this matter.
Just before publishing this newsletter, I received promising news from Dorothy. A team of heart surgeons from Australia or New Zealand is coming to visit and do several surgical operations in Tonga in August. Dorothy's son has been put on the list from which the surgeons choose their patients. Please pray that this dear young man is selected for surgery and that his physical condition would be good enough for it. Thank you so much for supporting Dorothy and us.

With every blessing,
Anne