NEWSLETTER JUNE 2019

Dear Anne,

I am safely back in my apartment in Norway after some amazing weeks in Papua New Guinea, visiting the schools and churches of Hosea. It has been a challenging trip in many ways, but without any doubt been worth it. People dedicated their lives to the Lord as they bowed their knees, and a lot of people got physically healed in their bodies.
After arriving and waiting in Port Moresby for a couple of days, I went by plane up to the Highland region, landing in the province of Enga. There I was met by one of the congregations and schools of Hosea as they welcomed me to their town. This is a place that consists of tribal people only. Some are somewhat modernized, but compared to the Western World this whole country is under developed and primitive.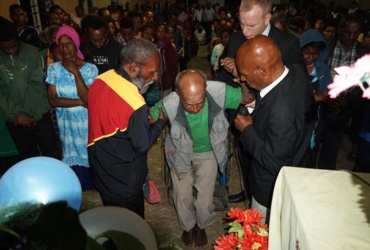 Paralysed man is healed

I was so pleased to see that the local pastors have continued the work that you started there many years ago. Even though there currently are three Hosea churches and schools, they are in the process of planting several churches in many provinces. The head pastor of Hosea in PNG has personally planted more than 150 churches in the country. I found the pastors and members to be humble people that loves the Lord sincerely.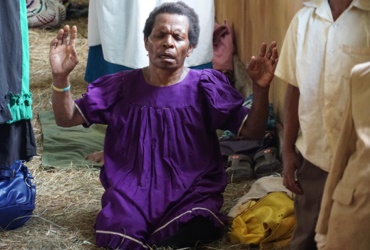 Lady is praying

The schools and the students were amazing. Several permanent church and school buildings has been built, which offers free education to students from kinder to grade two. I also saw a project site where they are waiting for the funds to build more school buildings, a health center and a church. The government supports the schools with school supplies, the salaries and some financial help to build the buildings, but I salute the pastors for having the faith and knowledge to build the churches themselves.

The trip started out with a healing crusade in the first town I arrived in. Already the first day people starting getting healed. One of the people that got healed was a paralyzed boy, as well as other people with bad eyesight, pain throughout their bodies, crocked bodies and so on. One lady was barely able to walk because of her back, which was not straight at all. After prayer she walked perfectly upright. This resulted in the church being filled beyond capacity during the second day, and Jesus was glorified! We also conducted a water baptism where several new believers got baptized in a small river not far away from the church. This was joyfully celebrated.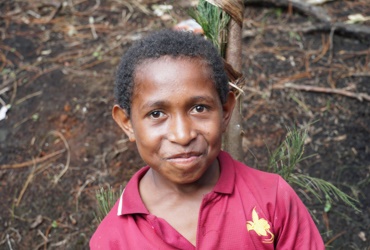 This boy was paralysed too and is healed

The day after the water baptism we went to visit a small tribal village a few thousand meters above sea level. I had to climb nine mountains, cross rivers and walk through the jungle to get there. It was worth it. I was met by some tribal leaders that came to me weeping, falling at their knees. They were crying loudly! The tribal chief ended up lifting me up while he was shouting in tears, full of gratitude for finally receiving a missionary. Apparently I was not only the first missionary to go to that place, but also the first white man.

People responded to the altar call, and some testified of getting healed. Being there on the mountain top surely filled my heart with gratitude, as I know I got to see things that most people only will read or hear about. It was like being in the book of Acts! Sleeping there was a whole experience in itself, and the next day we walked for closer to seven hours to go back to another tribal town. I thought for sure I was going to die as I climbed down a cliff and had to walk all the way back with lack off food and water, but God protected me. So did the guys walking around me with machetes.

Being met by people in village after village that were weeping as they received me was an experience like no other. People testified that they had been praying for year after year that somebody would come and preach the Gospel to them. Some people, like one pastor, has actually gotten saved by God taking them to heaven and hell. God is working around the world, and just seeing and observing what He is doing to bring in the harvest is an honor in itself.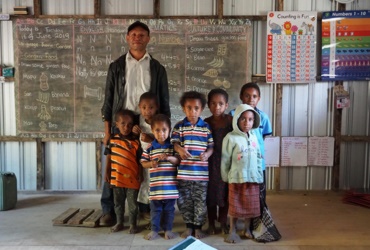 Hosea teacher and some students

In every church I visited they said the same thing: they felt like orphans that finally got their parent back when I came. It has been a challenging trip in so many ways, and I am sure that most people from the Western World will never do what I had to do and experience, but it was worth it. Even just for one soul, it was worth it. I am sitting here with my heart full of gratitude after not only seeing the work of Hosea, but because the harvest of souls is coming in, and I got to be the answer to the prayers of hundreds of people in one of the most remote and dangerous places in the world.
Now I am preparing and getting ready to go back to Hosea Philippines in August, and I am excited to see what God will do next. Please continue to keep PNG in your prayers. It is a unique country in so many ways, and so are the people. They might be primitive, and some violent and dangerous, but there are so many humble and kind people that are crying out in prayer to God both day and night. I believe that God will do great things in PNG, and that His light will shine through Hosea in every province throughout the country to bring the tribal prodigals home.

Yours in Christ,
Nathan Osnes.