NEWSLETTER FEBRUARY 2022

Hello dear friends,

Miraculous healings have again been taking place on Mindoro island. Hosea Pastor Billy Balsamo eagerly spends time praying for the sick, even when it seems to be humanly impossible: recently two paralysed people have been healed! One lady had been confined to her bed for five months in a paralysed condition. In addition her kidneys had failed and she was in great pain. Her neighbour felt pity for her and asked Pastor Balsamo to come and pray. After prayer the lady managed to sit up,  then the pain disappeared and she got up and walked! She has now regained full health and her body is functioning normally. A real modern day miracle!
Our new church In Cabacungan is so full of people that many don't fit in anymore. Brother Boy from Hosea borrowed chairs from the neighbouring houses so that people wouldn't have to sit on the ground. The youth and children's meetings are also full to capacity and the revival there keeps going. Also Mamburao church is full and people are longing for God, as they have witnessed His powerful working.

| | |
| --- | --- |
| | |
| The lady was healed | Partly paralysed man healed and now walking |
Our ministry of food distribution continues into its third year, with Hosea being the only church taking care of hungry people on the island. We are particularly directing our efforts to help those out of work because of  the virus pandemic, and news of this outreach is spreading fast. Our efforts have also attracted more prosperous members to our church who want to be involved in a congregation that is really trying to provide for the needy. My thanks once again to all our donors and also to Nathan from Norway who has played a big part in collecting funds for this work.

Representatives from both the police and the military continue to help us as we spread the gospel in new remote areas. Soldiers go ahead of us to ensure our safety in these areas where terrorists are operating.           

Pupils from our school for the tribespeople on Hope Mountain have been moved to Cabacungan church because the torrential rains have made the mountain paths impassable. In faith we have made a start on a new school building there, as at present the school operates in just a small straw hut, giving minimal protection from the elements. Thankfully there is plenty of room for a new building on the church land. When the tribal children arrived in Cabacungan, many local children took notice and wanted to join the new school too, and that is why the new building project is now urgent. I am sure we will manage but it seems like every time I think we can sit back and relax, then a new project appears!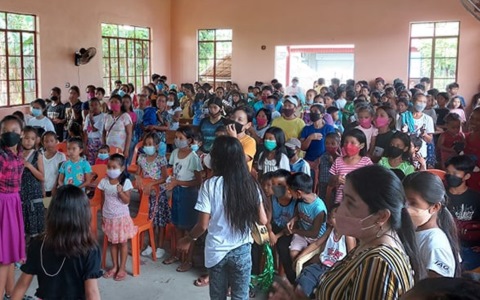 Cabacungan,people are seeking the Lord
Most of you will have read the news about the recent volcanic eruption near Tonga and the resulting tsunami and earthquake. The main island suffered severe destruction along with three other islands. We didn't know how our school on Vavau'u Island had been affected as the main internet cable was broken in the volcanic eruption and repairs will take many weeks, as the line was cut by the coral in several places. Finally some news has come through indicating that Vavau'u Island was saved from the tsunami, and that the school buildings and pupils are safe. I don't know about the ash damage, but I'll let you know more when the connections are restored. Many thanks for interceding for our ministry in Tonga - your prayers brought good outcomes!

HOSEA TONGA Island of vava'u students

Mindoro island is now reported to be free from coronavirus and quarantine restrictions have been lifted. So Nathan can travel to the Philippines again. Life seems to be slowly returning to normal. Presidential elections are coming up this May and we are praying for a believer to be elected as the nation has suffered a great deal.

Blessings to all of you who remember our ministry in your prayers and have supported our gospel work. You are wonderful!


With blessings

Anne